The Chakma language (Changma Vaj / Changma Kodha) is an Eastern Indo-Aryan language closely related to Bengali and spoken by about 600,000 people in parts of Bangladesh and India. About half the Chakma speakers live near Chittagong in southeast Bangladesh, while the rest can be found in the states of Mizoram, Assam, and Tripura in northeast India.
Chakma is written with an alphabet known as Chakma,
Ajhā pāṭh
or Ojhopath. It developed from the Brahmi script of ancient India.
Notable features
Type of writing system: syllabic alphabet / abugida
Direction of writing: left to right in horizontal lines
Used to write: Chakma (Changma Vaj / Changma Kodha)
Vowels and vowel diacritics
Consonants
Numerals
Sample text in Chakma
A Bengali version of this text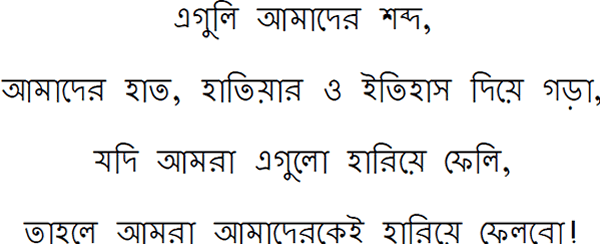 Translation
These are our words, shaped
By our hands, our tools,
Our history. Lose them,
And we lose ourselves.
Links
Information about the Chakma language and alphabet
http://en.wikipedia.org/wiki/Chakma_language
http://en.wikipedia.org/wiki/Chakma_script
http://std.dkuug.dk/jtc1/sc2/wg2/docs/n3428.pdf
Learn Chakma script
http://www.youtube.com/watch?v=_zUBFy43n6w
Online virtual Chakma keyboard
http://uni.hilledu.com/ribeng.html
Chakma fonts
http://hilledu.com/?page_id=1954
http://www.omniglot.com/fonts/chakma.zip