Origin
The Burmese or Myanmar script developed from the Mon script, which was adapted from a southern Indian script during the 8th century. The earliest known inscriptions in the Burmese script date from the 11th century.
Notable Features
Type of writing system: syllabic alphabet - each letter has an inherent vowel [a]. Other vowels sounds are indicated using separate letters or diacritics which appear above, below, in front of, after or around the consonant.
The rounded appearance of letters is a result of the use of palm leaves as the traditional writing material. Straight lines would have torn the leaves. The Burmese name for the script is ca-lonh 'round script'.
Burmese is a tonal language with three main tones (high, low and creaky) and two other tones (stopped and reduced). The tones are indicated in writing using diacritics or special letters.
Used to write:
Burmese/Myanmar
, a member of the Burmese-Lolo group of the Sino-Tibetan language spoken by about 21 million people in Burma (Myanmar).
The
Karen
languages, a group of languages related to Burmese and spoken by around 4 million people in Burma and Thailand.
Mon
, a member of the Mon-Khmer group of the Austroasiatic languages spoken by about 200,000 people in Burma and Thailand.
Consonants
Vowels and vowel diacritics
Regular Rhymes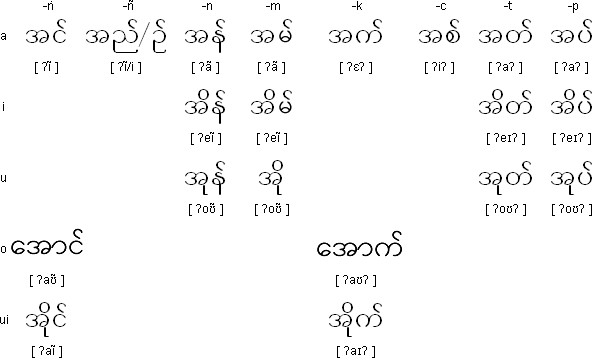 Numerals
Sample Text in Burmese
Hear a recording of this text by Lynnie T. Htoo
Translation
All human beings are born free and equal in dignity and rights. They are endowed with reason and conscience and should act towards one another in a spirit of brotherhood.
(Article 1 of the Universal Declaration of Human Rights)
Links
Information about the Burmese language
http://en.wikipedia.org/wiki/Burmese_alphabet
Online Burmese lessons
http://www.seasite.niu.edu/Burmese/
http://salika.com/burmese/learnbur.html
http://www.youtube.com/user/BurmeseLanguage
http://www.glovico.org/en/burmese
Burmese phrases
http://ilanguages.org/burmese_phrases.php
http://www.asiapearltravels.com/language/lesson28.php
http://wikitravel.org/en/Burmese_phrasebook
http://seap.einaudi.cornell.edu/system/files/Burmese Language Phrases with Audio_0.pdf
http://www.burmatour.net/useful-burmese-phrases.html
Online Burmese dictionaries
http://www.ornagai.com
http://www.lexilogos.com/english/burmese_dictionary.htm
Free Burmese fonts
http://www.seasite.niu.edu/seasite.htm
http://www.wazu.jp/gallery/Fonts_Myanmar.html
http://www.angelfire.com/country/burmesefont/
Online Burmese radio and news
http://www.voanews.com/burmese/
http://www.bbc.co.uk/burmese/
http://www.rfa.org/burmese/