Origin
The earliest known Tamil inscriptions date back to at least 500 BC. The oldest literary text in Tamil,
Tolkāppiyam
, was composed around 200 BC. The Tamil alphabet is is thought to have evolved from the Brahmi script, though some scholars believe that its origins go back to the Indus script.
The alphabet is well suited to writing literary Tamil,
centamil
. However it is ill-suited to writing colloquial Tamil,
koduntamil
. During the 19th century, attempts were made to create a written version of the colloquial spoken language. Nowadays the colloquial written language appears mainly in school books and in passages of dialogue in fiction.
Notable features
Type of writing system: syllabic alphabet
Direction of writing: left to right in horizontal lines
When they appear the the beginning of a syllable, vowels are written as independent letters.
Some of the non-standard consonant-vowel combinations are not used in official documents.
The alphabet was originally written on palm leaves. As a result, the letters are made up mainly of curved strokes which didn't rip the leaves.
Used to write:
Tamil
(தமிழ்), a Dravidian language spoken by around 52 million people in Indian, Sri Lanka, Malaysia, Vietnam, Singapore, Canada, the USA, UK and Australia. It is the first language of the Indian state of Tamil Nadu, and is spoken by a significant minority of people (2 million) in north-eastern Sri Lanka.
Tamil alphabet
Vowels and vowel diacritics
Non-standard consonant-vowel combinations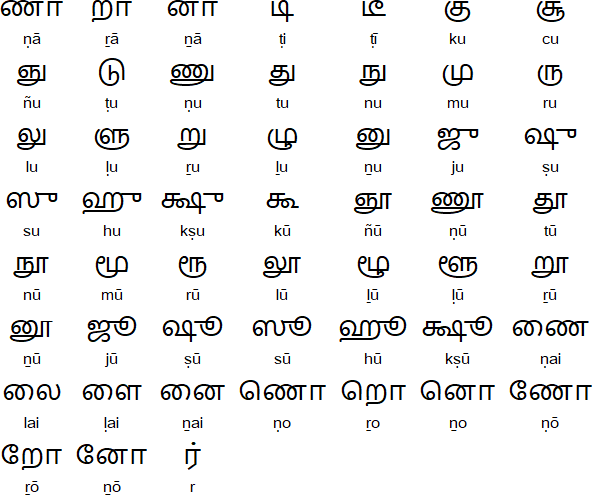 Consonants
The final five consonants (the blue ones) are known as
grantha
letters and are used to write consonants borrowed from Sanskrit, and also some words of English origin.
Numerals
The numerals rarely appear in modern Tamil texts. Instead, 'Arabic' numerals (1, 2, 3, etc.) are used.
Other symbols

Sample text in Tamil

Transliteration
Maṉitap piṛaviyiṉar čakalarum čutantiramākavē piṛakkiṉṛaṉar; avarkaḷ matippilum urimaikaḷilum čamamāṉavarkaḷ. Avarkaḷ niyāyattaiyum maṉačāṭčiyaiyum iyaṛpaṇpākap peṛṛavarkaḷ. Avarkaḷ oruvaruṭaṉoruvar čakōtara uṇarvup pāṅkil naṭantukoḷḷal vēṇṭum.
A recording of this text by Muralikrishnan Ramasamy
Translation
All human beings are born free and equal in dignity and rights. They are endowed with reason and conscience and should act towards one another in a spirit of brotherhood.
(Article 1 of the Universal Declaration of Human Rights)
Links
http://en.wikipedia.org/wiki/Tamil_language
http://en.wikipedia.org/wiki/Tamil_literature
http://en.wikipedia.org/wiki/Tamil_people
http://www.tamilnation.org
https://sites.google.com/site/sarvabhashin/en/ta
Online Tamil lessons
http://www.tamil-online.info
http://www.unc.edu/~echeran/paadanool/
http://www.duke.edu/~skc9/tamilclass/
Online Tamil dictionaries
http://www.dictionary.tamilcube.com
http://www.ee.vt.edu/~anbumani/tamildict/
Sinhala and Tamil word and letter puzzles
http://panther.lk/toys/toys.asp?ToysCat=5
Free Tamil fonts
http://www.azhagi.com/freefonts.html
http://www.wazu.jp/gallery/Fonts_Tamil.html
Online Tamil radio
http://www.slbc.lk
http://www.bbc.co.uk/tamil/
http://www.ctbc.com
http://www.minthirai.com
http://tunein.com/radio/Tamil-g161/
Association for Tamil Computing
http://www.kanithamizh.org
PDF Text - an online Unicode word processor for Tamil and English
http://www.pdstext.com
Tamil names
http://tamilbabyname.org
http://www.tamilcollections.com/tamilnames.asp
http://babynames.looktamil.com/
http://babynames.tamilstar.com/
Tamil songs
http://www.raaga.com/channels/tamil/
http://www.tamilmp3world.com/
http://tamilbeat.com
http://www.tamilsongs.net
http://tamilsongslyrics.in
http://www.thenisai.com
Tamil translation
http://dobashtrans.weebly.com/